Hyundai Near Me – Tucson & Santa Fe
Hyundai Near Me – If you're looking for the best Hyundai dealership near me, you're only a short drive away from the world-class treatment you deserve. At Lehman Hyundai, we are proud to be a local, family-owned dealership. We have been meeting the needs of Miami Gardens residents since 1936. We welcome you to experience our red-carpet treatment, the expansive inventory of new Hyundai vehicles, and unbeatable pricing.
Our highly-skilled sales professionals specialize in matching your unique needs to the best solution. And two of our most popular Hyundai models are the Hyundai Tucson and Santa Fe in Miami Gardens. Let's take a closer look at these versatile and stylish crossovers! And if you're ready to experience the best Hyundai dealership in Miami Gardens, don't hesitate to reach out to us today!
The Hyundai Tucson in Miami Gardens, FL
The Hyundai Tucson is a stunningly-attractive and clever modern compact SUV designed to whisk you throughout Miami Gardens and beyond. Judging by the numbers, the Tucson leaves little to be desired, delivering up to 181 HP and 28 MPG on the highway. Because of these exceptional performance metrics, the Tucson is the perfect vehicle for almost every occasion.
You'll enjoy ample technology and comfort for nights out on the town, your daily commute, or even weekend road trips away from the city. No matter where you go, the new Tucson boasts the performance, features, and is designed to help you get there in style. All of these attributes work together to propel Tucson to the head of the class. And you don't have to take our word for it. According to J.D. Power, the new Hyundai Tucson has been ranked #1 in initial quality among Compact SUVs. Explore the new Tucson today at the best Hyundai dealer near me.
The Hyundai Santa Fe in Miami Gardens, FL
The new Hyundai Santa Fe at Lehman Hyundai is an innovative 5-passenger SUV uniquely engineered for adventure. By the numbers, the Santa Fe excels in every category with an impressive 28 MPG (HWY), up to 277 HP, and optional HTRC All-Wheel-Drive. Soon, you'll be able to opt for a Turbo Santa Fe as well as a Hybrid version that delivers even more exceptional MPGs.
And if you're looking for the highest in premium luxury, the Santa Fe Calligraphy elevates everything to new levels. It boasts elegant Nappa leather seating and quilted leather door panels, large 20-inch alloys, exclusive LED lighting signatures, and several other features to create a one-of-a-kind experience at every turn. Fortunately, you can experience the new Santa Fe Calligraphy and every other trim right here in Miami Gardens at Lehman Hyundai.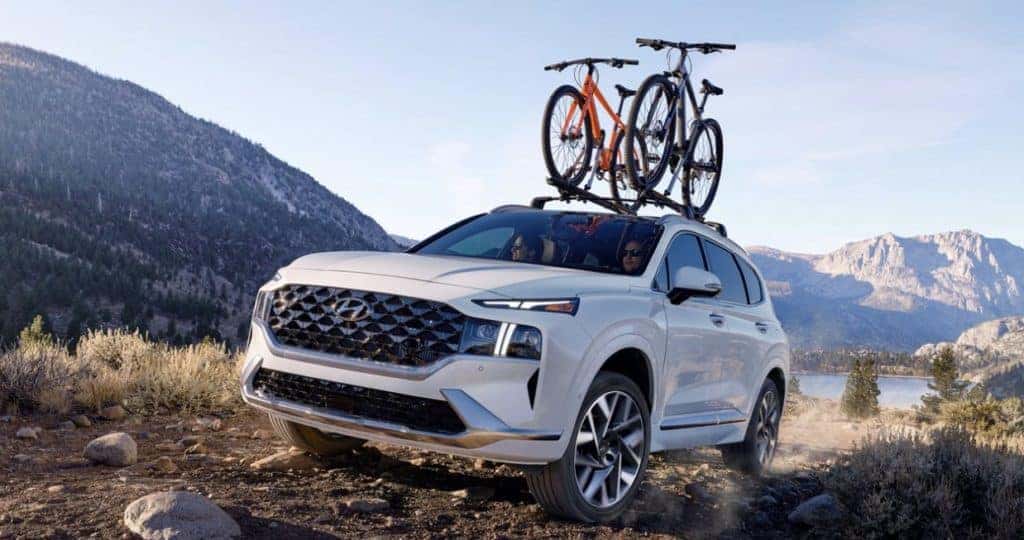 Contact Lehman Hyundai – Best Hyundai Dealer Near Me in Miami Garden, FL
Looking for a new Hyundai near me? At Lehman Hyundai, we make finding and purchasing a vehicle as easy as possible. From your test drive to financing, we've streamlined the process to ensure you enjoy a world-class experience. As the top Hyundai dealer in Miami Gardens, you'll enjoy no-hassle pricing, free home delivery, and a Three-Day Worry-Free Exchange! To put it simply, we're laser-focused on delivering a world-class car buying experience at every turn. Don't hesitate to reach out to the team at Lehman Hyundai today for the best new and used vehicles.